There are a number of different badges that can be worn on a Cubs uniform. When a Cub is invested they receive their membership badge, their district and county badge and the group name tape. The membership badge is worn on the left breast of the uniform, if the Cub was a Beaver then they may also wear the moving on award (if awarded) above the membership badge and their latest joining in award (aka year badge) above the moving on award. The group name tape should be worn on the right sleeve of the uniform and beneath the district/county badge should be worn.
Joining In Awards
For each year in the Scouting Movement young people will receive a new joining in award with a number on indicating the number of years they've been a member. You can transfer existing joining in awards from their Beaver uniform to their Cub uniform, or alternatively – see add the old ones to their camp blanket (see end of page for details).
Activity Badges
There are a number of activity badges, which Cubs can work towards in their own time – occasionally we will work towards one as part of our programme – for example we will be working towards the Athletes badge this term. These badges should be worn on the left arm. There are two different types of activity badge, the normal "red" activity badges and the "blue" staged activity badges. The staged activity badges can be kept between scouting sections, that is you can transfer them from your beaver->cub->scout->explorer uniform. Only the highest valued staged activity badge may be worn, so for example if they've camped on 3 separate occasions for 1 night, whilst they would have been awarded the 1, 2 and 3 nights away badges, only number 3 should be worn on the uniform.
The Cubs can work towards the Air Activities, Digital Citizen, Digital Maker, Musician, Paddle Sports, Sailing and Swimmer staged activity badges in their spare time. The Community Impact, Emergency Aid, Hikes Away, Nautical Skills, Navigator, Nights Away and Time on the Water staged badges will be worked towards by attending cub/group/district camps and hikes.
There are a wide range of other activity badges that a cub can be awarded, further details are available from the Scout Association: Activity Badge Requirements / Staged Activity Badge Requirements with details on what a Cub needs to do to be awarded a badge.
Please note before a Cub starts working on a badge they should discuss with Akela or Shere Khan which requirements they are going to undertake.
Challenge Badges
There are seven challenge badges in total, and we try to work towards at least two a year. In addition any Cubs that attend a camp will be awarded the Outdoor Challenge. These badges are worn on the right breast of the uniform – see the diagram at the bottom of the page for exact placement.
Chief Scouts Silver Award
This is the highest award a Cub Scout can achieve and is something that older Cub Scouts should aim to achieve. It requires that they've been awarded 7 of the challenge badges and also obtained at least 6 activity/staged activity badges during their time in Cubs. The Chief Scouts Silver Award must be worn above the challenge badges on the right breast of the uniform, and can be transferred to their Scout Uniform when they move up to that section.
Sixers and Seconders Stripes
These should be worn on the right sleeve beneath the District/County badge – only one stripe should be worn, i.e. if the Cub has been a Seconder before becoming a Sixer the Seconder stripe must be removed.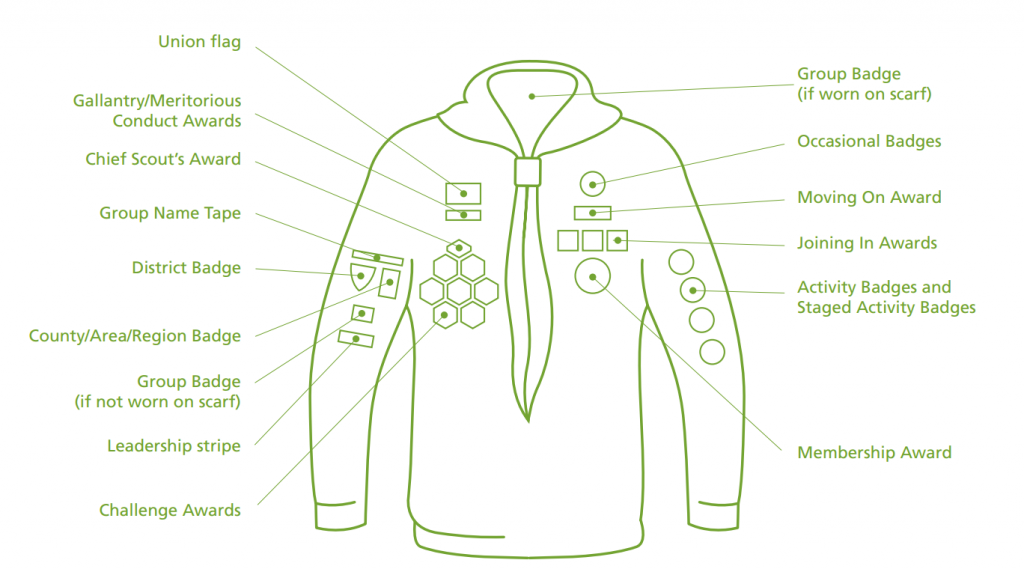 What to do with Old Badges
As a young person moves through the sections of the Scout Movement, they will get different uniforms and different badges which can no longer be worn. A traditional way of keeping old badges is to attach them to a camp blanket, this is a blanket that they take with them on camps. In the older sections, namely the Scouts and Explorers they may well get the chance to go on international camps where there is always the opportunity to swap badges with Scouts from other countries and a camp blanket is an ideal place to keep such badges.