There were six parts to the challenge:
Beauty Parade  There were varied interpretations of this from a milk float, to a red pig and a space age scene complete with music. One very adventurous device even went with a bang, the fire extinguishers didn't have to be used as the car was quickly carried outside!!! 1st place Normandy Explorers "B"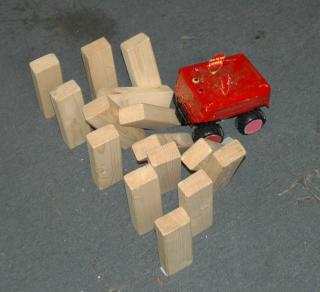 Great T(egg)chno race After complaints at last years event that using cream eggs meant there was no challenge and mess real eggs were used. Luckily whilst there were a few cracks there was no spillages!!! The methods of placing the egg over the wall varied from remote control tippers to ram the car into the wall and hope the egg flies (and lands). 1st place Normandy Explorers "A"
Technosult course The cars had to negotiate skittles, tunnels, ramps, jumps and more. Every car completed the course but only 2 without incurring penalties. 1st place Normandy Scouts "B"
Techno drag Pure speed, about the only event where it did matter what the base car was under the covers. 1st place Normandy Explorers "A"
Techno push – The vehicles had to capture then push a football into goal. Sounds easy but most teams found it quite tricky. 1st place Normandy Explorers "A".
Techno Sumo The only event where the vehicles are put head to head literally. They had to push each other's car out of the Sumu ring. Size was not the answer but agility. 1st place Wood Street Scouts.
Overall results
1st Normandy Explorers "A"
2nd Normandy Scouts "B"
Joint 3rd Wood Street Scouts & Normandy Explorers "B"